The Bat! - The Natural Email System.

The Bat! is a powerful, highly configurable, yet easy to use, email client for the casual user or the power user, the home or the office.
Support of unlimited number of multiple accounts and multiple users
Fully customizable message templates save hours of typing
Powerful filtering for automated message handling
Support for all PGP versions from 2.6x through 6.5
Mail Dispatcher for managing email on remote servers
Simultaneous mail processing in the background for all accounts
Familiar Explorer-style folders for organizing messages
Easily configurable user interface with message preview option
Built-in HTML email viewer and message editor with spell-as-you-go
Sophisticated address book for storing all personal information
Unique Mail Ticker™ for email notification
Multi-lingual interface supporting 15 languages on the fly
Import message bases from all major email clients
Many more features for managing email quickly and easily...
Note! The Bat! is not vulnerable to the LoveLetter worm or any of its clones. These e-mail worms cannot spread themselves with The Bat!, since it does not use the Microsoft Windows Address Book. A virus alert popup will warn you of suspicious attachments to help prevent infection by such e-mail worms as the HAPPY99.EXE, LOVELETTER*.VBS, etc., including recently discovered flaw that enables computer vandals to take control of a PC simply by sending an e-mail.
Try The Bat! 1.46d today free for 30-days and discover for yourself its many powerful, yet user-friendly features!

Our awards:
The Bat! is now featured at www.tucows.com, the largest and one of the best existing software sites.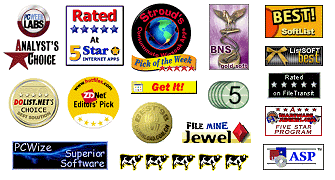 Copyright © 1995-2000 RITLABS. All rights reserved.
Mail Ticker™ is a trademark of RITLABS